Luangpu Tuad WatNakrang.
Luangpu Tuad amulet, legendary guru monk of Thailand. Parng Aum-baht, holding monk's food bowl. Blessing wealth luck into fortune. Beautiful design, batch "Sompao Mahasretthi"(Treasure ship. Wealthy one). Bless/chanted from WatNakrang woraviharn temple b.e.2558(2015).
Rean Sema style amulet. Frontside, image of Luangpu Tuad meditation blessing holding food bowl for an auspice image blessing. To alway have full of supplies, giving from others. Sitting upon offering tray. Buttom word "Luangpu Tuad". Dharmachakra the wheel of fortune at the backside for the whole life fortune blessing. Backside with a treasure ship image blessing wealth luck into fortune. Side with Luanpu Tuad's Bhoddisattwa mantras. Genuine temple stamp code. Batch and ceremony details.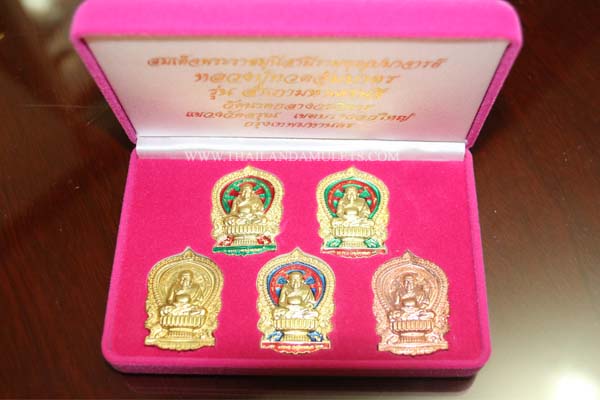 100% genuine direct from monks/temples and ceremony.
The best of Thailand Buddha Amulet at
www.thailandamulets.com / www.thailandamulet.com