Luangpor Koon Koon Pun Larn b.e.2537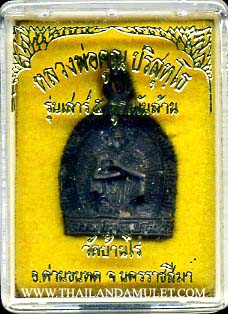 The batch Koon Pun Larn(Multiply billions) was one of the biggest and famous ceremony at WatBanrai temple in b.e.2537(a.d.1994). Lead ceremony by Luangpor Koon the abbot, among with many guru monks participate. Sao5(Saturday 5th) is a great day of the month to consecrated holy items.
Monk's amulet blessing protection, bring good mind and good fortune to wearer. Front side, image of Luangpor Koon holding yar-zen, his favourite tobacco. Back side, yants blessing mantras and ceremony details.
Good amulet by the most famous guru monk of Thailand.
Click here for more of Luangpor Koon's amulets.
100% genuine direct from monks/temples and ceremony.
The best of Thailand Buddha Amulet at
www.thailandamulets.com / www.thailandamulet.com