Buddha PhraKhunpan
Khunpan amulet blessing protection, bring kindness/attractiveness to fortune. Frontside image of Buddha blessing meditation pose of victory from all evils/darkness, backside yant blessing mantra. Made of sacred holy materials, bless/chanted with mantras from good ceremony. Consecrated ceremony B.E.2557(2014) by Luangpor Rak Ananlyo, abbot of WatSutavas-vipassana temple. Given batch name "Treasure of Ayodhaya".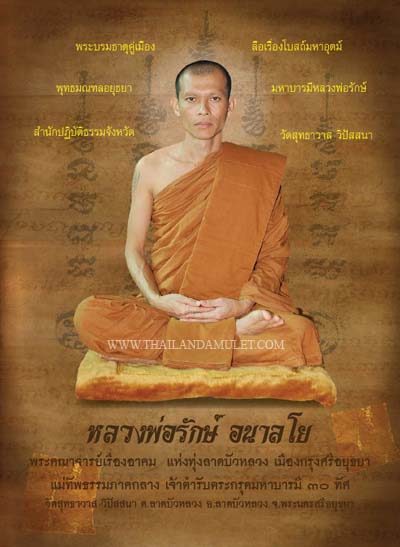 Luangpor Rak Anarnlayoh, abbot of WatSuthavas Vipassana temple.
Mantra and guide from Luangpor Rak.
Namotassa Pakawatoh Arrahatoh Summa Sumputassa (3 times)
The mantras blessing of Buddha Dharma Sangha(monks) then pray respect to elders/ancestors, parent/master and chant. "Na Mo Put Ta Ya - Na Ma Pa Ta - Ja Pa Ga Sa - Na Ma Ar Au - Put Toh - Ar Ra Hung".
"Blessing" Elder master taught those who wear/keep amulet close with them, wear, place in vehicle/household bless protection, make holy place in the area. Chant 1 in the morning to call good fortune in to our spirit. Chant 1 time before sleep to protection from all evils/darkness curse sickness.
100% genuine direct from monks/temples and ceremony.
The best of Thailand Buddha Amulet at
www.thailandamulets.com / www.thailandamulet.com